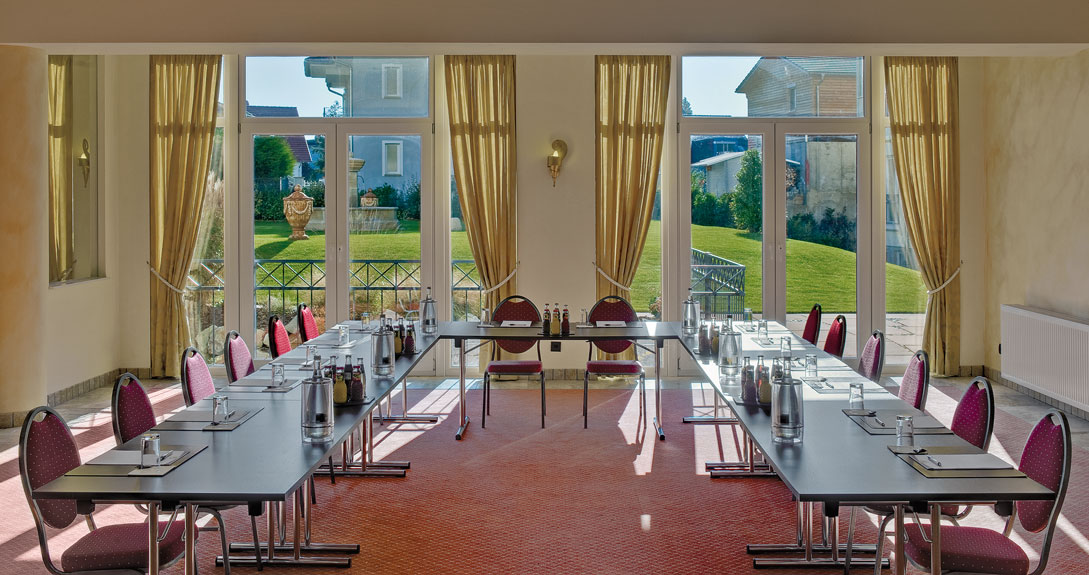 meeting at villa medici
Our eight meeting rooms, with natural daylight and space for up to 100 delegates, provide a unique atmosphere across a wide range of room sizes. Here you will find the perfect location for any type of function. We guarantee the smooth running of your event, with our professional team always on hand, as well as the latest audio-visual technology. Air conditioning and a Mediterranean flair complete the package to provide a very pleasant working environment.
We understand the importance of quality catering, keeping your guests refreshed throughout the day. From breakfast through to coffee breaks, lunch, snacks and dinner, we will indulge you every step of the way. Relax and recharge your batteries in our "La Dolce Vita" restaurant and don't forget to top it all off by ending your day with a beer or cocktail from our "Da Vinci" hotel bar.
Whether for a comfortable meal for two, a business dinner in a stylish atmosphere or your company's anniversary, our Mediterranean and regionally focussed cuisine will fulfil your every wish. Alternatively, enjoy your evening meal outside during the warm, summer months on our charming sun terrace. The garden's Mediterranean atmosphere makes it a popular place in which to linger and while away the evening.
You deserve a location which offers the utmost in comfort and professional service. We look forward to welcoming you soon!
The "Grand Prix der Tagungshotellerie" (Conference Hotel Industry's Grand Prix)  is one of the most important annual awards within the industry. It has been awarded for over 20 years and is considered the most important of quality indicators in the German conference market. The contenders are chosen based on their inclusion in the book "Exclusive Conference Hotels for Wellbeing" (Ausgewählte Tagungshotels zum Wohlfühlen) and nominations from the online platform meintophotel.de. Those who wish to be included in the ranks of the "exclusive" must submit an application and then undergo a multi-stage selection process, culminating in a visit from the book's author, who verifies the wellbeing criteria on site and ultimately decides on the inclusion. If anything is found to be lacking, the applicant is rejected.
In 2015 the "Villa Medici" in Bad Schönborn-Karlsruhe was included in the"Exclusive Conference Hotels for Wellbeing" and is excitedly awaiting the announcement of the next "Grand Prix der Tagungshotellerie" winner.
---
Pictures
YOUR MEETING
8 conference and function rooms
rooms from 15m²-134m²
space for up to 100 guests
air conditioning (some rooms)
state-of-the-art technology
customised conferences packages
room set up as desired
sUPPORTING PROGRAMME
Are you looking for an exceptional and unique supporting programme for your meeting, workshop or training sessions "Lend your meeting a certain something with our appealing Support Programme catalogue!" We will gladly advise you, or even take on the entire organisation. Our Support Programme catalogue is available on request.