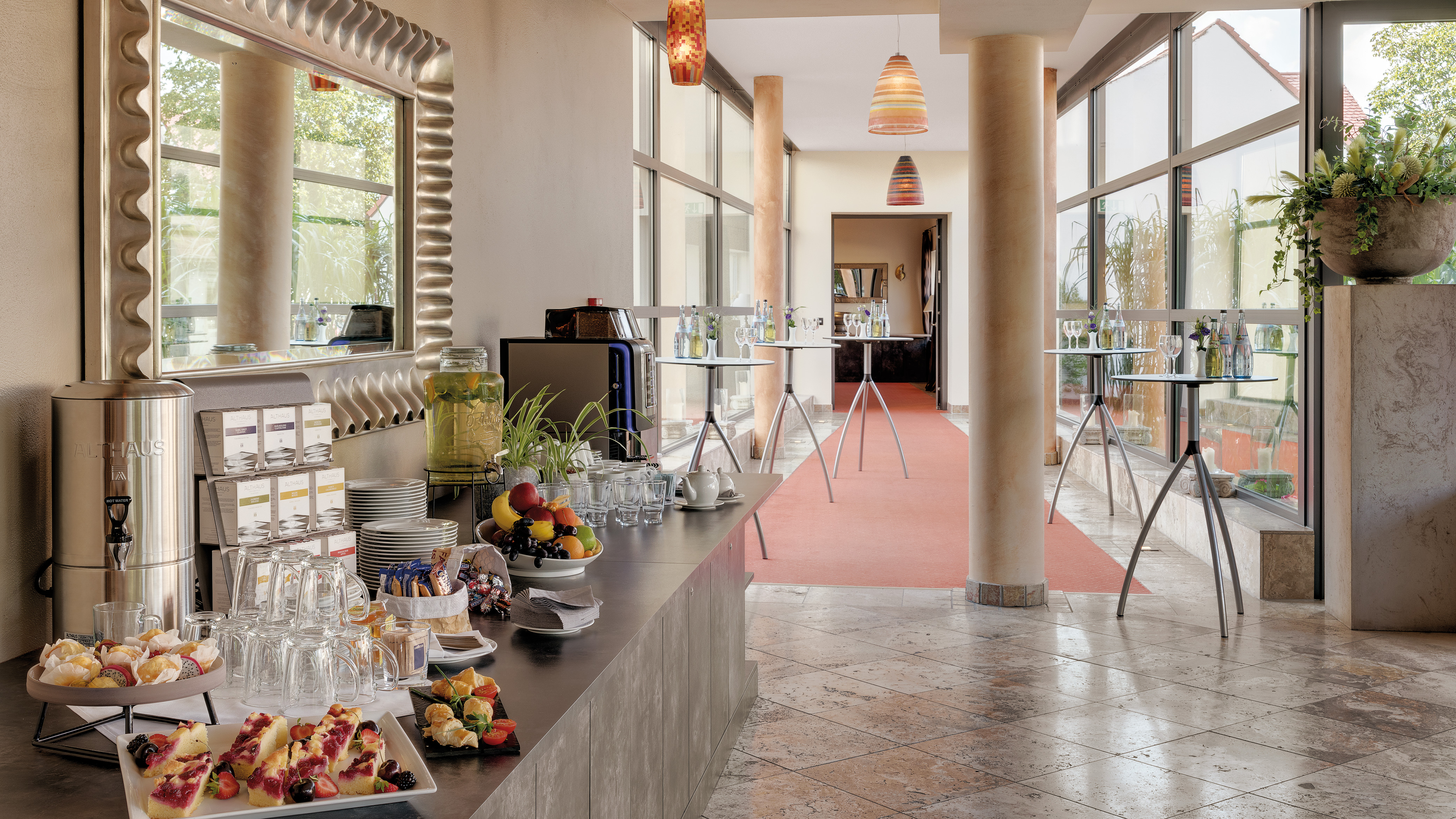 MEETING PACKAGES
LUCCA
Preparation of a meeting room according to your wishes and number of delegates.
Standard equipment:1 projector, 1 overhead projector, 1 projector screen, 1 flipchart, 1 pinboard, 1 presentation case, writing materials: pads and pens
Free Wifi access in meeting room for all participants
Morning coffee break with savoury snacks
Lunch, depending on the booking situation, as seasonal three course meal or extensive buffet **
Afternoon coffee break with sweet snacks
Beverages in meeting room: mineral water, sparkling apple juice and sparkling apple and blackcurrant juice
 €60.00 per person and day
SALERNO
Preparation of a meeting room according to your wishes and number of delegates.
Standard equipment: 1 projector, 1 overhead projector, 1 projector screen, 1 flipchart, 1 pinboard, 1 presentaton case, writing materials: pads and pens
Free Wifi access in meeting room for all participants
One coffee break with sweet or savoury snacks
Lunch, depending on the booking situation, as seasonal three course meal or extensive buffet **
Afternoon coffee break with sweet snacks
Beverages in meeting room: mineral water, sparkling apple and blackcurrant juice
Dinner, depending on the booking situation, as seasonal 3-course menu or extensive buffet **
€85.00 per person and day
We will gladly tailor your meeting package to your individual needs - the possibilities are endless!
 *A room hire cost of €200.00 per room, per day, will apply for meetings of less than eight people.
 **For both lunch and dinner, when the total number of delegates in the hotel exceeds 35, we offer our Mediterranean buffet. When there are less than 35 delegates in total, we serve a seasonal, three course meal, with a choice of two main courses.